Jan Godfrey is an experienced writer for children with many published books, mostly Christian. (Although her first published work was a Camberwick Green annual!)
Jan and I have been in touch for some years now, and when I heard she had finished a completely different writing project, I thought I'd ask her for some writing tips to pass on to you. (Give you a change from my voice, hehe. :-))
* * *
Jan replied, "My recent writing-for-a-reason has been compiling a collection of my poems, Cyclamen, as promised to my husband Brian before his death in 2016, to be in aid of British Heart Foundation. This was not as straightforward as it seemed – any sparkle and enthusiasm for the task was soon to be replaced by discouragement and tedium.
"Was I wasting my time? Would anyone actually want to read it? Should I self–publish the poems? How does that work? What about costs?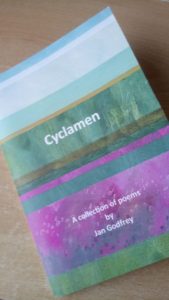 "However, the following 'P's somehow broke into this lack of motivation.
Promise  – to be kept –  somehow.
Prayer   –  waiting on God… then getting on with it.
Persistence –  working on the book at least one hour each day however tedious (and not too many tea breaks…).
"And there was always one big P hanging around… Pitfalls – the biggest one being that tomorrow will do!
"The turning point – around the dreaded halfway – came when my daughter provided the artwork for the cover, my twin grand daughters cut out heart motifs, photos were located and the index prepared. Oh and in case you're wondering, 52 poems eventually came up through the dark earth!"
Congratulations are due to Jan, on getting her book finished, even through the tough times. I think we can all learn something from those BIG 'P's. Which one resonated most with you? Leave your thoughts in the comments below, and I'll be sure to let Jan know.
Jan's poems are beautiful, thoughtful, and on all manner of topics. If you'd like a copy of Cyclamen, I can put you in touch with Jan. (And you can find Jan's children's books in any online bookshop.)
And that's it for this week – enjoy working on your Ps! 🙂
Janet

Jan Godfrey, a Writer for a Reason