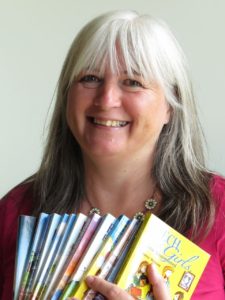 Hello! My name is Janet Wilson. I'm a wife, mother, grandmother, and a publisher of Christian children's books with Dernier Publishing. Besides reading and writing I love walking, sewing, baking and travelling . . . when I get a chance! This is me holding a selection of Dernier Publishing books . . . I'm thrilled and excited about them, because every one started off with an idea, and now, after a lot of hard work, these stories are being enjoyed by children all over the world. 🙂
I have always loved reading. Stories are not just books; they are a means of escaping into another world. As a child, when I ran out of my own books, I would read anything on the bookshelf at home. I'm guessing you can relate, because almost every writer was an avid reader first!
I believe we are children of a creator God, and I'm a firm believer in being creative – it's part of the awesome privilege we have of being made in His image. If we have been given a gift I believe we should use it to honour God who gave us this ability. Some people love creating a garden, others a website. Others love to sew, paint, make things from wood, make music or delicious meals. Others love to write.
But if we want to produce pretty much anything of value, we need someone to show us how to do it, people to encourage us (even our first feeble efforts!) and we need to stick at it and not give up when the going gets tough.
So we need a teacher, and we need encouragement. Hence Write for a Reason. Here you can enjoy hundreds of FREE writing tips, get the ebook, join the Write for a Reason online writing course. (You can read testimonials from past students here.)
To start you off, fill in the form below and I'll send you a free pdf, with seven pointers for a great start for your novel. Let me know how it goes! 🙂