Apologies for missing a week – I had a last minute opportunity to get away for a few days – so I took it – to the south downs not too far from Brighton. Lovely! Hope I'm not making you too envious. 🙂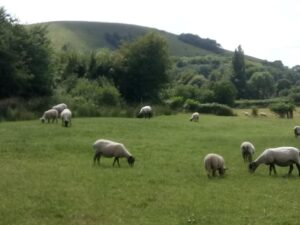 Right, back to writing!
Here's something a writer-for-a-reason, Kathleen, said to me recently in an email:
"I wrote a book of stories for my granddaughter. It was a tradition in my home to give "love gifts" for Christmas. For a number of years I dedicated a story to my granddaughter. The story was read at the Christmas Eve dinner. Everyone seemed to look forward to the Christmas story about a green unicorn named Spearmint who was born in a snowstorm on Christmas Eve night. I enjoyed writing it."
Isn't that wonderful? Could you do that?
Why not take some time aside to consider what would success look like for you (in regard to your writing). A story for your godson? A story for your grandaughter? A story for your Sunday School children who are about to go up to secondary school/middle school/next grade?
I know we shouldn't really be talking about Christmas in July (eek!), but could you write a story for Christmas for a child on your heart? 🙂
We all have a unique calling and a different writing journey. What's your next step?
Let me know who you're writing for. And if you're determined to write that story, come and join in our Write for a Reason Community facebook group. Hope to see you there!
Love to you all,
Janet
P.S. Would you share this with a friend who shares your interest in writing? Thank you!