I was talking about Easter yesterday, with my husband. Although we celebrate Easter once a year, don't we live in the reality of the death and resurrection of Jesus every day of our lives?
Where would we be without Easter? Where would we be without the good news? Where would we be if someone hadn't told us?


You know where I'm going with this, don't you… someone needs to hear your story. If you feel called to write, don't put it off any longer. Make a start. The brand new Write for a Reason course starts soon. Let me know if I can help you. Or just write – you can do it!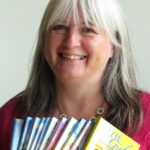 May the Lord's love fill your heart this Easter,
Janet