Good morning and welcome to this week's writing tip. Actually, it's not so much of a tip, as an encouragement.
See my boot full of boxes of books? This morning, early, I delivered 400 copies of Nobody's Dog to central London. From here they will be sent to prisoners' children this Christmas, through Prison Fellowship's Angel Tree programme. How wonderful is that? The author, Eleanor Watkins, is delighted, of course! Nobody's Dog is a fun story about a boy and a dog… and faith, hope and trust. It's a book full of seeds, some of which will land in good ground and bear fruit.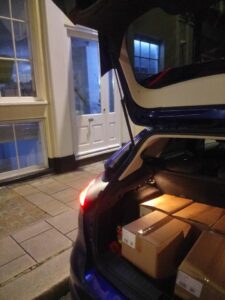 But what does this have to do with you? Well, perhaps it's time for you to dream a little. How far could your books go, if you kept writing? Could your story also touch young hearts?
The answer is YES, OF COURSE! You have been given your gift of writing for a reason.
Overnight success, however, is rare. If you want to be successful, you have to put in the work FIRST.
Keep working on your skills. Keep praying. Keep writing. Faithfully put your talent to work. Then who knows what the Lord will do?
Perhaps one day your novels will bring joy, hope, light and life in dark places. 🙂
Never give up, my friends! Nobody can write your novel but you, and someone's waiting for it.
Kind regards,
Janet
P.S. If you have been sent this by a friend and would like to sign up for weekly writing tips and encouragement, you can do so here.
Today I Was the Delivery Driver!