We all love to persevere, don't we?
Actually, sometimes, if we're honest, we don't. We want to give up. When our writing seems to be going nowhere, when we keep on and on and on and 'success' eludes us, we feel discouraged, disillusioned, fed up, and ready to jack it all in. We can start to feel, did God really call me to write? Is this really my gift?
Do you ever feel like that? I certainly do. But if we don't give up, there is still the hope that we can achieve 'success'. For me, success means getting Christian books into the hands of children and young people. It's not easy! But it's one step at a time.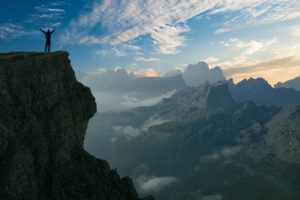 I read a little bit about Joanna Trollope the other day in an old copy of the Writers and Artists Yearbook. She retorted to a journalist once, rather poignantly, I thought, that it took her 20 years to achieve 'overnight success'. During those years she had quietly and hopefully continued to write, one book after another, building up her readership, honing her writing skills. What an encouragement!
Ready to get back to writing? You just never know what you can achieve if you persevere in what you are called to do.
Did you find this encouraging? If you did, please share it with your friends – thank you!
Every blessing in your writing,
Janet