Now with us! (Scroll down to the bottom of the page for Amazon links.)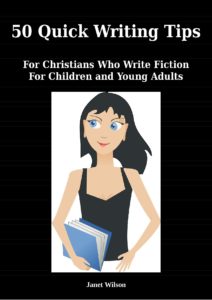 If you are a Christian with a heart to write novels to encourage and inspire children in their faith, or to show non-church kids what they are missing, this little ebook of writing tips is for you.
Since becoming a publisher of Christian fiction for children and young adults, I have learnt a thing or two about stories – conflicts and resolutions, beginnings and endings, characters and dialogue, plotting and planning. I love Christian books for children and teens – I've seen the seeds they have sown, the lives changed. Given a Christian book, readers can think things through for themselves. Church children need to make their own decision in just the same way non-church children need to know of God's love . . . reading a story can be a tool for the Holy Spirit to work through.
I don't believe every writer needs to be published – these days a book can be in any format – you can make your own ebook, or even print out a copy and put it in a folder. If the story is appealing enough, the format won't matter.
Suppose everyone who had a story in them wrote for their children, grandchildren, godchildren, nieces and nephews, missionary children, pupils, neighbours' children, friends' children and children's friends? Imagine the impact!
I first wrote these 50 mini writing tips for the Write for a Reason blog. I have picked out the best and edited them. My prayer is that, simple though they are, they will inspire you to make your stories the very best they can be.
Keep writing!
Janet
Click here for the link to the book on US Amazon.com
Click here for the link to the book on Amazon UK
Save
Save
Save
Save
Save