I recently watched the1993 film The Fugitive. Have you seen it? It's set in Chicago, and features a doctor (Harrison Ford) who is wrongfully convicted of murdering his wife. He escapes from custody and sets out to prove his innocence, but is relentlessly pursued by the law (Tommy Lee Jones).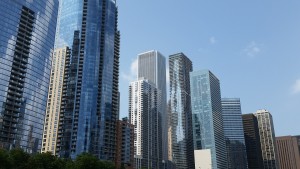 The producers did a great job increasing viewer engagement with the innocent doctor in the following ways:
His wife was murdered (evoking sympathy)
He was shown to be a caring person, risking capture and even his own life to save others (giving him hero status)
He was wrongly accused of his wife's death (we are indignant on his behalf)
The police and legal system were shown to be negligent (what an outrage!)
He was shown to be both resourceful and courageous (this increases our admiration for him)
The whole world seemed to be against him (we all love to root for the underdog).
If you can do this with your protagonist, you will have your readers gripped to the last page, hoping for a just ending.
If you think this is helpful, and would like to go into more depth with your story writing, why not join the Write for a Reason course and learn many more ways to make your stories the best ever? 🙂 Sign up here now. (Be quick: the course starts in January and registration ends soon). I look forward to being able to help you further!
Trust this tip from my film-watching is helpful – what a great excuse to watch films!
And as this will be the last writing tip before Christmas, let me take this opportunity to wish you all a blessed time as we celebrate the first coming of Emmanuel, God with us, and look forward to the time when he will come again.
Love to all in Jesus,
Janet
P.S. As it's Bank Holiday in the UK next Monday, I might be a day or two late with next week's writing tip, but I guess you will be busy, too! 🙂 If you have an hour or two spare in the meantime, why not take some time out to prayerfully consider your writing goals for next year?
Have You Seen The Fugitive?